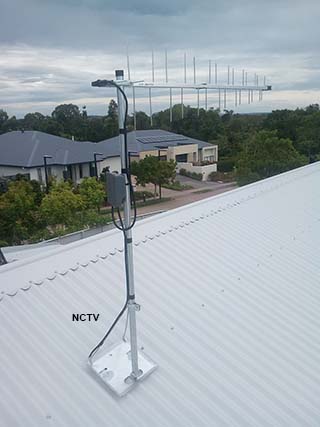 In order to get the best quality Digital TV Reception it's best to have a clear line of site from your TV Antenna to the Transmitter, Unfortunately there are many places on the Sunshine Coast and North Brisbane that don't have this clear line of site due to buildings, trees and hills blocking this view and degrading Digital Signal Quality and Digital Signal Strength.
Problems you may experience with poor Digital TV Reception are Pixellation, Poor Signal or No Signal on your TV Screen, this may only happen on windy or rainy days effecting some TV channels and not others. In order to get the best Digital TV Reception requires high quality test equipment for a site survey and understanding what all the readings mean.
TV Antenna Installations in Poor Reception Areas require careful site survey, the right selection of Digital TV Antenna for your area, good quality coax cable, Amplifier, Splitters and connectors. With over 30 years experience in TV Antenna Repairs Sunshine Coast to Brisbane North and high quality test equipment you can be sure your TV antenna Installation is done right the first time.
We use high quality parts for all our Digital TV Antenna Installations to give you the best quality Digital TV Reception with a full parts and labour warranty. Call our Qualified TV Technician for more information about TV Antenna Repairs & Installations in your Area.
We use Professional Digital TV Signal Test Instruments to test all TV channels and parameters of your Digital TV Reception, this is very important for New Digital TV Antenna Installations as it insures long term reliability. We aim for a minimum 10 to 15 years of reliability with our New Digital TV Antenna Installations and not 10 to 15 months as we see with some new home package Installations.