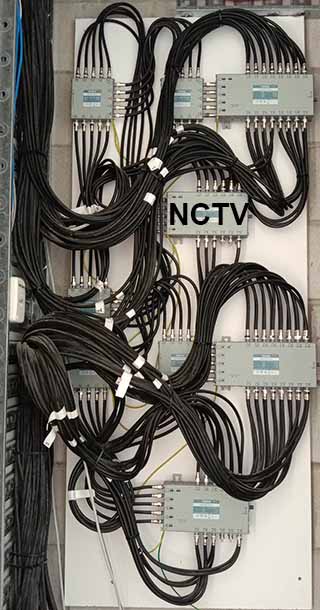 Design, Installation, Service & Repairs of Digital TV Antenna Systems, MATV (Master Antenna Television) systems or SMATV (Satellite Master Antenna Television) Systems in high-rise buildings and Resorts from Noosa Heads, Maroochydore and Caloundra on the Sunshine Coast to Caboolture Brisbane.
MATV systems are often used in strata title buildings, hospitals, hotels / motels, retirement villages and nursing homes with a number of televisions. An MATV system is basically a network of cables and specially designed components that process and amplify Satellite & TV signals and distribute them from one central location to multiple TV Outlets.
For example if a building had 90 televisions it would be very expensive and impractical to Install 90 separate Antennas, in addition to this reception would suffer because that many Antennas would interact with each other causing interference, Satellite Signals that run over MATV Systems are normally Foxtel Pay TV and feed in from a Commercial Foxtel Satellite Dish.
We have extensive experience in Commercial TV Antenna Installation, Repair and Service of Commercial MATV Systems from the Sunshine Coast to Brisbane and can diagnose and repair any size Satellite MATV Distribution System.