TV Antenna Service Sunshine Coast to Caboolture
Welcome to North Coast TV and Antenna Service, Your Local TV Aerial or TV Antenna Installation and TV Antenna Repair Specialists on the Sunshine Coast, Queensland. We are Approved Service Providers for Commercial MATV Systems and Domestic TV Antenna Systems specialising in the Design, Installation, Upgrade and Repairs of Digital TV Antenna Systems for Residential, Resorts, Body Corporate and Retirement Villages.
Our TV Technician has over 30 Years of Experience in TV Repairs, Electronics Repairs, TV Antenna Repairs, TV Antenna Installation, Satellite Installation, Foxtel Satellite Installation, CATV Repairs and Commercial MATV Repairs. For all TV Antenna Reception Problems contact North Coast TV and Antenna Service, we Service all Areas from the Sunshine Coast to Caboolture and North Brisbane, and guarantee to Fix Poor TV Reception Problems or there will be No Charge.
• Digital TV Antennas >>
• TV Antenna Repairs >>
• Television Reception >>
• VAST Satellite Installation >>
• NBN & Internet Installation >>
• Surround Sound Installation >>
TV ANTENNA SERVICE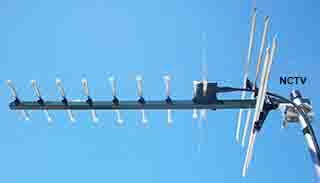 North Coast TV & Antenna Service, Servicing Buddina, Maroochydore, Mooloolaba, Noosa Heads, Tewantin, Caloundra and all surrounding areas of the sunshine coast to caboolture and north brisbane. We carry a large range of TV Antenna equipment onboard our service vehicle for fast TV antenna repair. We only use the highest quality TV Antennas, amplifiers, coax cable, signal boosters and connectors to give you the best TV Reception possible with a full parts and labour warranty. Best TV Antenna Installer Sunshine Coast to Caboolture.
POOR QUALITY TV ANTENNA METERS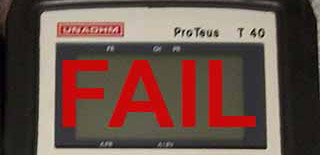 IMPORTANT INFORMATION, we recommend using TV Antenna Installers with high quality professional digital field strength meters and not Installers with cheap substandard hand held TV Meters that are slow, produce false readings and give no indication of future reliability. Testing Digital TV Signals with cheap hand held meters is not good enough as this could lead to future reliability problems and call backs. This seems to becoming more of a problem lately as more installers are using these meters for testing. READ MORE >>
WORKING AT HEIGHTS WITH TV ANTENNAS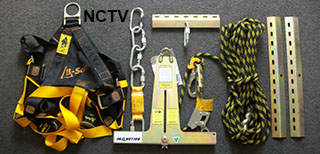 Although climbing onto your roof and doing your own TV Antenna Installation may seem like a good idea at the time it also comes with a lot of problems and safety risks. Without using proper testing equipment to position and align the TV Antenna can lead to poor digital TV reception causing intermittent breaking up of the TV pictures, and not using the correct tooling to terminate connectors on coaxial cables can also cause breaking up of the TV pictures on one or more TV's in the house.
Most importantly is Safety when climbing the roof, as some older roofs can be very slippery due to steep pitch and aged paint coatings. Our TV Antenna Installers are equipped with all the approved Height Safety Equipment needed to complete any TV Antenna Installation on any type of roof. We are fully trained in height safety and hold a nationally accredited working at heights and safety inspection certificates.
34dB or 24dB AMPLIFIER BOOSTER INSTALLATION - $275 TOTAL COST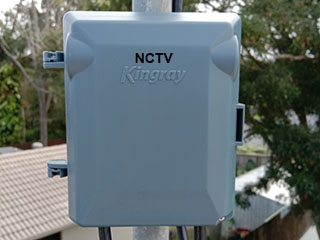 Masthead Amplifier, otherwise known as an Antenna Booster is a small fully shielded active device inside a plastic water proof box mounted at the top of the Antenna Mast close to the TV Antenna, most TV Antenna Systems from Caboolture to the Sunshine Coast have TV Signal Boosters Installed. TV Signal Boosters or Amplifiers overcome the losses in the TV System caused by Coaxial Cables, Taps and Splitters used to run multiple TV Outlets.
We stock a large range of TV Aerial Boosters to suite all locations from the Sunshine Coast to Caboolture, all our Boosters are High Quality with built in 4G Filters stopping pictures from breaking up into blocks caused by 4G Interference from local mobile phone towers.
MAROOCHYDORE TV ANTENNA SERVICE
North Coast TV & Antenna Service offer fast TV Antenna Service in Maroochydore and surrounding areas, our main workshop and part's storage are located in Maroochydore where we stock a large range of TV Antenna Installation equipment, including 4G Amplifiers and 4G Antennas designed for the local Maroochydore TV reception area. Whether it's TV Antenna Service in Maroochydore or a simple TV setup and Tune, you won't be disappointed with our services or prices, so contact your local Maroochydore TV Antenna Installation and Repair Service Today for Fast TV Antenna Service or a free quote.
PROFESSIONAL TV ANTENNA TEST INSTRUMENTS
With a combined value of $18,000 Dollars, we have heavily invested in high quality test instruments to reduce the possibility of call backs due to false readings and to give us the edge over our competitors. It seems most installers these days don't want to spend more than $500 dollars on a TV analyser, and the down side to this is slow response time, incorrect readings and missing intermittent interference that can propagate into the TV Antenna System.
We use Professional Digital TV Signal Test Instruments to test all TV channels and parameters of your Digital TV Reception, this is very important for New Digital TV Antenna Installations as it insures long term reliability. We aim for a minimum 10 to 15 years of reliability with our New Digital TV Antenna Installations and not 10 to 15 months as we see with some new home package Installations.
Our TV Antenna Installations exceed the minimum Australian standards for digital signal quality, and with the combination of high quality professional test equipment and decades of experience, you can be sure your TV Antenna System is Installed to the highest standards with long lasting reliability.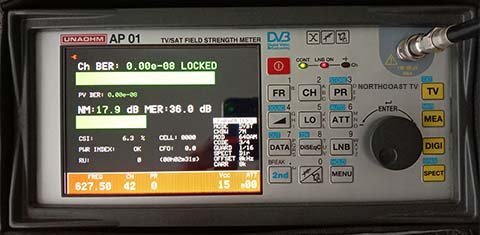 TV Antenna Service Sunshine Coast
Noosa Heads - Noosaville - Tewantin - Sunshine Beach - Peregian Beach - Marcus Beach - Maroochydore - Buderim - Nambour - Parrearra - Mooloolaba - Kawana Waters - Buddina - Minyama - Bokarina - Currimundi - Battery Hill - Birtinya - Aroona - Dicky Beach - Moffat Beach - Shelly Beach - Kings Beach - Wurtulla - Pelican Waters - Caloundra - Little Mountain - Beerwah - Glass house Mountains
TV Antenna Service Caboolture
Caboolture - Morayfield - Bellmere - Beachmere - Ningi - Sandstone Point - Bribie Island - Bongaree - Woorim - Bellara - Banksia Beach - Wamuran - Burpengary - Narangba
Perfect TV Reception on All Channels!